The other day Robin, Aaron, and I stopped into game stop to pre-order the new Nintendo Wii. I still can't get over the name, Wii… as in We, but could be Weeeeeeee. (more on that later) 'Revolution' would have made a much better name, but no, Nintendo had to be difficult.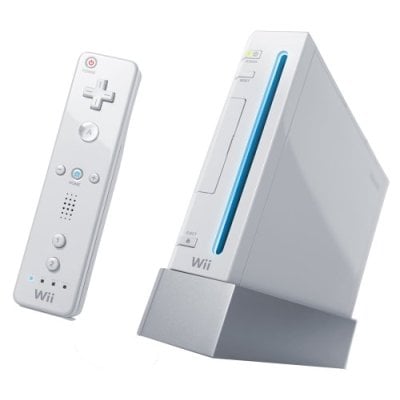 So anyway… Wii, err I mean We, were about 16th in line. Not so bad. Hopefully they get enough in on launch day to fill the order. If not I'm sure it wont be long of a wait considering Nintendo is launching with excess of a million units.
I'm pretty impressed by what I've seem so far of the system and how the controller operates by moving you hands instead of simply mashing on a button. This will mark only the 3rd Nintendo console I have bought. The N.e.s. and the N64. I skipped on the SNES because I was a sega kid. I skipped on the game cube because, well, that was just plain stupid in my eyes.
Wii, Damn it, We.. pre-ordered the New Zelda game as well. I'm hoping the game will be something Aaron can play with and get used to. He's 4 and it's not like the old days of having a 4 direction D pad and two action buttons. Gaming got complicated. The Wii is advanced but at the same time seems to have simplified gaming. I guess we'll have to wait until 11.19.2006 to find out.
While at game stop I couldn't resist buying a DS lite. I never had bought a hand held before and I had purposely avoided doing much research on them to see whether it would be worth it. I can tell you now. The DS lite is wonderful. Aaron learned how to use the touch screen and the basic controls in less than a day. With the wireless capabilities I'm sure it will prove useful while playing Wii games, perhaps as a controller? Or maybe, DS games, can be beamed to the Wii so we can view them on our Televisions. Even Robin has been having fun with the DS. If you're getting the Wii, get a DS while you're at it. It's well worth the small $119.00 price tag.
To celebrate the Wii pre-order, I dedicate a video to the Wii.
6A0p-U1LBbQ
Admit it, you liked the video.
Share